Summer 1
In English this half term, we have read books linked to our Science topic of plants; including: The Tin Forest, The Little Gardener and The Flower. We have used these texts to inspire our own writing and to answer reading comprehension questions.
In Maths we have focused on place value, addition and subtraction and using these skills to solve number problems and reason about Maths. We have also briefly recapped lots of other topics including: multiplication, time, shape and measurement. Here we are finding out the capacity of various containers using measuring jugs:
In Science, we have been learning about plants. We have planted broad bean seeds and considered what conditions they need to germinate. We have also learnt about the different parts of plants and the life cycle of plants. We linked our art lessons to the same theme, learning about the artist Georgia O'Keefe. We used observational drawing then pastels to create some wonderful artwork inspired by Georgia O'Keefe.
In Geography (with Mrs. Ward), we have been comparing two localities: Oldham and China! In Computing (with Miss Nellist), we have learnt how to logon to Google Classroom and how to create a slideshow using Google Slides. In P.E we have worked on athletics skills: running, jumping and throwing and with Miss Martland we have been doing archery.
In R.E, we have learnt about the features of a church (inside and out). Once we had read about them, we visited St. Paul's Church to find them. Whilst at the church, we continued our observational drawing progress, by drawing one of the features inside and sketching the outside of the building, whilst sat on the pavement outside Downey House!
In English this half term, we have enjoyed the book Harry and the Jaggedy Daggers by Jan Fearnley. We used the book to inspire lots of writing including: using prepositions, using expanded noun phrases and writing a character description. We have been reading a new class text called The Hodgeheg (ask your child why is it called this)! We have also really enjoyed another 'Read, Write, Perform' pack called Crazy Creatures. We wrote our own fact files about a creature, then used them to make Chatterpix videos.
In Maths we have focussed on 2D and 3D shape, fractions and measurement. The children have worked really hard to learn how to work out fractions of shapes and quantities and have enjoyed practising measuring things around the classroom. We held our annual Easter Maths Trail during the final week of term and the winners were: Jack and Lucie.
In Science, we have been learning about habitats. We have considered where different animals live and why they choose their habitat. We also took part in healthy eating week by making some interesting fruit salads!
In Computing with Miss Nellist, we have learnt how to make a PowerPoint presentation and seen many children use their learning at home to create their own PowerPoints! We have also learnt how to log on to Google Classroom and completed our first piece of homework online!
In RE lessons, we have been thinking about symbols of Easter. We learnt about the Paschal Candle and about El Salvador crosses. We have created our own crosses with symbols of things that are important to us: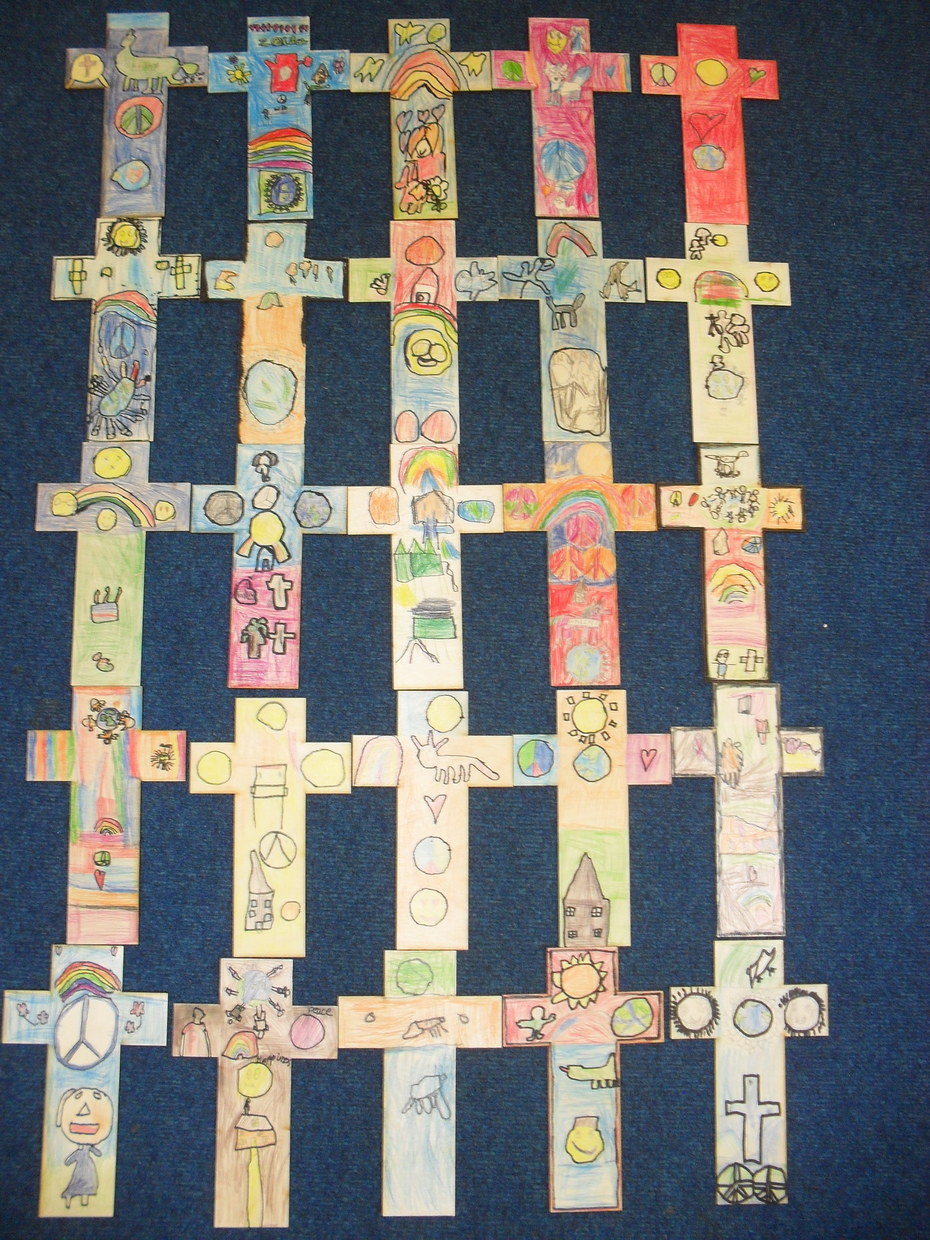 Finally, we had a fantastic time on our trip to Portland Basin Museum. We learnt lots about Victorian times and reinforced many of the things that we had already learnt in class: